Welcome to Countryside Cottages:
Your Best Choice of
Pocono Cabin Rentals
PLAN A RELAXING STAY AT OUR VACATION CABIN RENTALS
---
Creating lasting memories for guests since 1960! The Strand Family continues to welcome visitors from across the United States to Countryside Cottages. Nestled in the picturesque Pocono Mountains, we are looking forward to sharing this amazing piece of the country with you.
Whether you are looking for a destination for your family vacation, romantic getaway, or fun weekend with friends, this family run resort of quaint cottages is the ideal setting for any occasion. Each of our lodges offers the full comforts of home with the added advantage of having nature's beauty just outside your window.
Close your eyes and imagine the peaceful sounds of birds chirping and smell the fresh clean air. This is what you will experience each day during your stay with us in our Pocono cabin rentals.
At Countryside Cottages, you will find a welcoming pool area, spacious green fields, a recreation room chock full of games, and plenty of quiet places to just sit and relax. We take pride in being the coziest Pocono cabin rentals within the area! Take your pick from one of our 10 spacious mountain cottages.
Our convenient location means you can visit a wide array of local attractions including ski resorts, golf courses, shopping destinations, restaurants, and more.
COUNTRYSIDE COTTAGES' FEATURES
Our deluxe rustic cottages are located in a picturesque rural setting in beautiful Pocono mountains. You'll have enough room to connect with nature, relax and have fun with your kids, friends and pets.
Our Pocono Mountains vacation rentals come in 2 to 6 bedroom units with double and single beds. To keep the perfect temperature, we provide automatic heat. For your comfort, we offer a cozy fireplace, comfortable sofa beds, and cable television so you won't miss the big game.
Especially appealing for families, we offer fully equipped kitchens with a full sized refrigerator, stove, pots and pans, drinking cups, dishes, and utensils. Whether you want to prepare a few sandwiches to go or a special dinner, our full kitchens accommodate all your needs.
At Countryside Cottages, you'll find all the amenities of home so you can enjoy the perfect getaway!

---
Our Pocono Cabin Rentals Are All About Location, Location, Location!
There is a reason why some places are more popular than others. Location! Countryside Cottages is located within minutes of a wide array of attractions, including all the major ski slopes, shopping, horseback riding, paintball, rafting, golfing, theaters, and much more!
The Poconos is renowned for its state parks. Plan to visit Big Pocono State Park while you are staying with us. With four seasons of breathtaking views, there are a wide array of outdoor pursuits to please the most finicky of family or friends.
Our local state parks are not only great places to hike, bike and raft, they are the perfect spot for a picnic, a friendly game of frisbee, and some fishing. Many of the park activities are also ADA (Americans with Disabilities Act) accessible.
Put your iPads away, connect with each other the old fashion way, and enjoy pure family fun. Our helpful staff will answer all your questions and guide you to the best attractions in the Pocono Mountains.
For pure fun and unforgettable memories, book your Pocono vacation stay with Countryside Cottages in Fall, Winter, Spring and Summer!
What are you waiting for?! Nature is calling!
Wait Call us today at (570) 629-2131! and reserve your next holiday at Countryside Cottages!
---
Pick The Perfect Pocono Cabin Rental For Your Group
Here at Countryside Cottages we offer cabin rentals for every group. Our cabins can accommodate from 2 to 25 guests, perfect for a romantic getaway or a large family retreat. Check out our available cabins below and pick the one that best fits your needs.
A Pocono Vacation Affair For The Whole Family
A Pocono Vacation Affair For The Whole Family

---
At Countryside Cottages, we have been bringing families together for over 60 years. We offer ten rental cottages to choose from that accommodate a wide range of occupants.
Looking for a quiet weekend with the kids? Book our Woodbrook or Woodrest cottage; both feature two bedrooms and can sleep five people. Hosting a family reunion? We have you covered. Featuring 6 bedrooms, our Countryside Lodge accommodates up to 25 guests.
From weekend retreats with a small group of friends to bachelor parties and more, our cozy Pocono cabin rentals come fully equipped with a fireplace for cold winter nights and picnic tables for warm summer evenings under the stars.
Our conveniently located cottages offer the perfect lodging for those who love the outdoors. Skiing in the winter season, hiking, bike riding, and canoeing in the spring, summer, and fall.
Did we mention the pool? Yes, at Countryside all our guests can go for a swim in our inground pool or relax poolside with a good book. For those who like a little friendly competition, we provide everything you need for a fun game of volleyball or baseball. Our recreation room is packed with a vast selection of games.
This has been our community for a very long time, so we know all the best places to visit. Just ask a member of our team if you need suggestions.
ROMANTIC WEEKENDS AT THE POCONOS
Everyone needs a few days away to relax and recharge. A Poconos cabin is the perfect place to kick off your shoes, put on your ski gear and head for the crisp air and powdery snow with the one you love.
Our white water rafting enthusiasts come back each spring and summer to get their rush of adrenaline and thrills. At the end of your day, snuggle up by the fire with a nice glass of wine and enjoy the silence.
Celebrating an anniversary or a birthday? The Poconos offers a wide range of indoor activities as well. Head over to the Mohegan Sun or Mount Airy and try your luck at blackjack. Visit one of our highly rated restaurants and then take in a concert at Penn's Peak.
Did you know that the Poconos is wine country? Immerse yourself in all that is wine at one of the area's premiere wineries. Tour the facility, taste the wine, and dine on an array of gourmet offerings.
Not into wine? We encourage you to spend an afternoon at one of the local breweries or distilleries. Enjoy the finest wines and spirits brewed right here in the Poconos and marvel at the natural beauty that surrounds you.
Book your romantic getaway today!
---
PET FRIENDLY POCONO GETAWAYS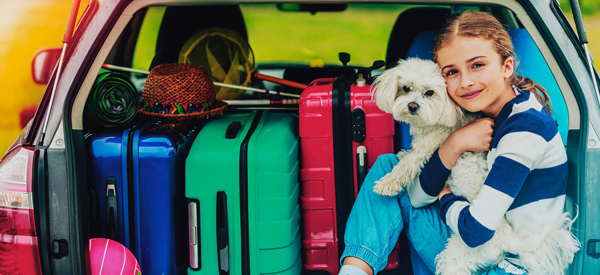 ---
Pet boarding facilities are expensive and can be a source of stress for many dogs and cats. Don't leave your furry friend behind!
At Countryside Cottages, we welcome your well-mannered pet with open arms. All we ask is that you follow our Pet-friendly accommodation guidelines to maintain the safety of your pet and all our other guests. There is a limit of two pets per cottage with a fee of $15 per night for one pet and $25 per night for two.
Please keep your pets on a leash when walking on the grounds and clean up any waste thoroughly and quickly. We allow tie out cables no longer than 15 feet as long as you are present. Please do not leave your dog tied out alone as this may pose a danger to your pet and other guests. The pool is off limits to pets with no exceptions.
Always remember to visit your vet and ensure that your dog or cat is up to date with all their vaccinations before traveling with them. We reserve the right to ask for proof of vaccinations from a certified veterinarian as specified on our pet policy form.
If you have any questions about our pet friendly cabin vacation rentals, please contact us so that we can ease any concerns you may have.
COUNTRYSIDE COTTAGES PHOTO GALLERY